Why not?
Back in 2017 I began teaching online courses as my way of passing on the skills I had acquired as a successful freelancer within the world of social media and digital marketing.
And I loved it. But I quickly discovered that I was spending all of my time launching and promoting my courses. When all I really wanted was to have more time to create content and support my students.
So I eventually decided to drop my prices and also put my courses on platforms like Udemy and Skillshare. Which means I now get to to spend my days doing more of what I love.
It also means I'm able to help more people just like you – to start and grow their online businesses, get more clients, make more money and lead happier lives. And that's a big win in my books!
Plus, teaching on Skillshare also allows me to give you access to not just my courses, but 30,000 more from amazing instructors all around the world!
So go ahead, explore this page to find out more about my courses, or click below to go straight in and access your free two week Skillshare trial:
Minutes of Course Content Taught
Minutes of Free Content Taught
START LEARNING
Social Media Marketing
Powerful Social Media Marketing
LEVEL: BEGINNER
DURATION: 9.5 hrs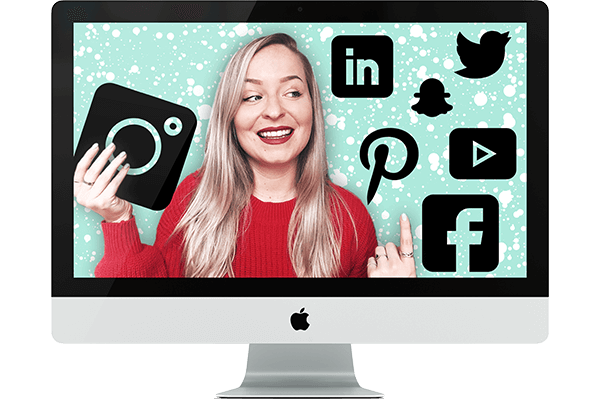 Whether you want to travel the world while working from your laptop as a digital nomad like myself, or just want to work from home so you can spend more time with your loved ones – either way, this is the best place to start.
In this course you will learn everything you need to know in order to begin your career as a Social Media Manager as soon as you finish.
Or if you run your own business, use these skills to grow your online audience and grow your sales!
What can you expect?
I'm not promising you a multi-million dollar income with minimal effort. 
What I can promise you is that if you follow the steps I teach you and you keep a hard-working, positive attitude throughout the course – you will have the best chance at guaranteeing your own success. 
All of the content you will find here, is based on the exact tips and techniques I wish I knew about when I first began working online – combined with the latest knowledge of the rapid-moving social media world.
Why is this course special?
By the end of the course you'll have the skills you need to get started in your career as a social media manager or grow your business online if you're a business owner looking to learn social media to improve your own presence.
Remember:
Choose a job you love, and you will never have to work a day in your life.
What will you learn?
Finding your purpose – 

 

Narrow down your purpose, discover your "why" and find the care factor which will make you an irreplaceable asset to any business
Guarantee your success – 

 

Take charge of your own success and learn all the best tips on how to achieve it
Social media platforms – Get a behind-the-scenes look into Twitter, Facebook, Instagram, Pinterest, YouTube, and LinkedIn
Content creation –  Learn the techniques that have made me stand out from my competition by thinking outside of the box. Discover how to create graphics, gifs, and videos – all using free resources, no prior design skills necessary
Creating a social media strategy – 

 

Learn the tricks I have used to land my dream clients from the very beginning. Tricks that you can copy and use in your own online work
Build your freelance business – discover how to find clients; how to create contracts, invoices and proposals, and so much more!
The truth is, most of the incredible, eye-catching graphics you see online aren't created with expensive software by professional designers. They're created by people just like you and me, using free tools that are simple and ridiculously fun to learn. So, whether you're a beginner looking for some guidance on basic graphic creation, or an expert looking to pick up some new tricks – this course is for you!
Are you ready to create something remarkable today? Let's do it!
What can you expect?
This course is packed full of exciting, valuable lessons that teach you exactly how to create beautiful graphics that will help turn your online presence into something truly remarkable. It's taught using follow-along screenshare videos so you can create your projects at your own pace as you watch!
Why is this course special?
Using a popular tool like Canva, it would be easy to simply teach you how each of the tools work so you can take one of their pre-loaded templates and customise it to suit your own needs. But if you want to truly enhance your social media, your business or your website's online presence – you'll need to learn a few tricks that other courses don't cover.
Inside this course, we'll master the basics together, and you'll become confident using Canva and other free online tools. That means no more relying on expensive graphic designers or costly and confusing design software!
As a freelancer, business-owner and best selling course creator, I know exactly what it takes to create a lasting impact online. 
What will you learn?
By the end of this course, you'll be able to make your own:
Canva graphics to use anywhere online and offline for print
Instagram inspirational quote graphics, multi-post images and moving GIFs for Insta Stories
Facebook graphics, cover photos and Facebook ad graphics
Pinterest pins and board covers
YouTube channel art, video thumbnails and image cut-outs
Business eBooks, mockups and compressed images to ensure your website stays super fast!
Social Media Graphic Design
LEVEL: BEGINNER
DURATION: 3.5 hrs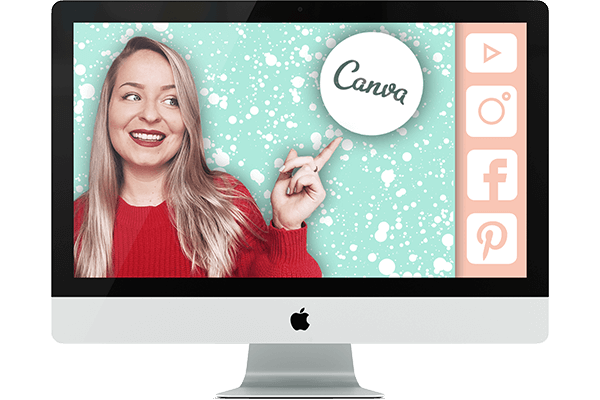 Facebook and Instagram Ads: Create and Scale Successful Paid Campaigns
LEVEL: INTERMEDIATE
DURATION: 3 hrs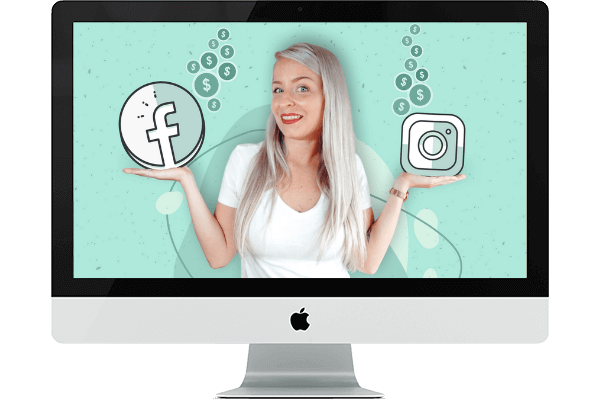 And before I tell you what you'll learn in this class, let me quickly tell you why I've created it…
Did you know that 62% of small businesses who advertise on Facebook, have reported that they feel like they're failing? That's a HUGE number!
And in working as a Digital Marketing Strategist, there is one thing that I've almost ALWAYS noticed when jumping into any under-performing Facebook Ads account – they're skipping steps in building relationships with their community.
And so in this class, I have included all of my most valuable tips and tricks for overcoming this problem, or making sure it doesn't occur in the first place. 
Who is it for?
This class is perfect for you if you have a good basic knowledge of the Facebook Ads Manager. Maybe you've run a few campaigns in the past and they haven't performed as well as you'd hoped. Or maybe you've learned the basics but you're not feeling super confident yet in creating powerful, successful ad sequences yet. Or maybe you're absolutely killing it with your existing Facebook and Instagram Ads but want to learn a bit more!
What will you learn?
By the end you'll know how to:
Work backwards from your ultimate business and sales goals.

Analyse and select your best performing content to use in paid ads to connect with potential target markets.

Make adjustments to strategy through split testing – based on analysis of best performing ad creative and copy, different audiences, and placements.

Set up custom reporting of the correct key metrics to monitor in order to ensure your campaigns are performing well and when to make adjustments.

Understand how and when to scale the success of your ads

Integrate your Facebook Ads strategy into wider company marketing efforts with platforms like Google, LinkedIn etc.
…and much much more! 
SOCIAL MEDIA MARKETING STUDENTS
REVIEWS




START LEARNING
Digital Marketing Strategy
Profitable Sales Funnels: Fundamentals
LEVEL: BEGINNER
DURATION: 3.5 hrs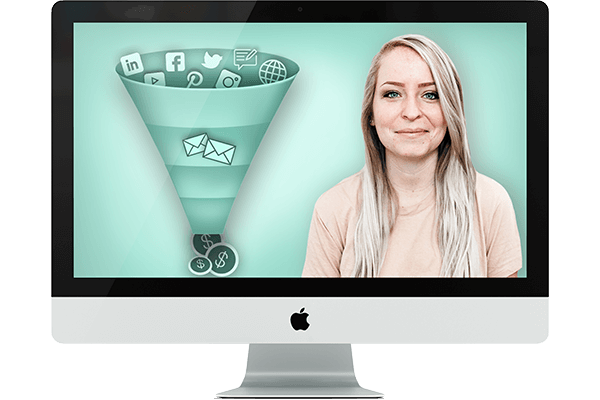 You might be surprised to learn that there are really only three ways to use digital marketing strategies to grow your business:
Increase the number of customers

Increase the average transaction value per customer

Increase the number of transactions per customer
And in this course, you're going to learn how to execute on each one of these. 
Some people (including me) have been through years of trial and error to master the elements you will be able to master in just a few short hours in this class.
Are you ready to learn the exact sales and marketing strategies used by some of the biggest brands in the world? 
What can you expect?
Once you complete this course you will have a solid framework for what your profitable sales funnel will look like and be able to move onto the implementation part with confidence. 
What will you learn?
How to identify who your target audience is and how to sell to them in a non-salesy way

Why sales funnels are the key to your business growth and where a lot of businesses go wrong

What your strategy should be at the top (or beginning), middle and bottom of your sales funnel

How to cater your strategy to the mindset of your audience to create a positive customer experience at every stage

How to map out your profitable sales funnel and execute on your tailored digital marketing strategy
And much much more!
Within this course you will learn everything you need to know about creating a profitable sales funnel from start to finish in just a couple of hours – and using only ONE inexpensive tool!
With this one tool you'll be able to deliver your free offer to your audience, create sales pages, create a simple online store, take payment, send emails and so much more!
I've often found that people don't end up succeeding with their sales funnel because they're trying to do too much too fast. So in this class, I want to overcome this problem by presenting the lessons in a planning and execution section, and an advanced section.
What will you learn in the planning section?
You will learn what tools and offers you need to have in place in order to create a sales funnel that is actually designed to make you money.

You will also learn how to launch a sales funnel and even begin making money from it even if you don't have anything to sell yet or an audience to sell to.
What will you learn in the execution section?
You will be learning everything you need to know in order to write, design and build profitable landing pages, sales pages and email sequences for your customers.
What will you learn in the advanced section?
You will be able to go even further with your sales funnel by taking you through techniques for creating additional paid offers within your funnel and optimising for your best performing assets.

You will also learn how to use additional free tools within your funnel to help you handle customer objections and increase social proof on your sales pages. 
Profitable Sales Funnels: Mastery
LEVEL: INTERMEDIATE
DURATION: 9.5 hrs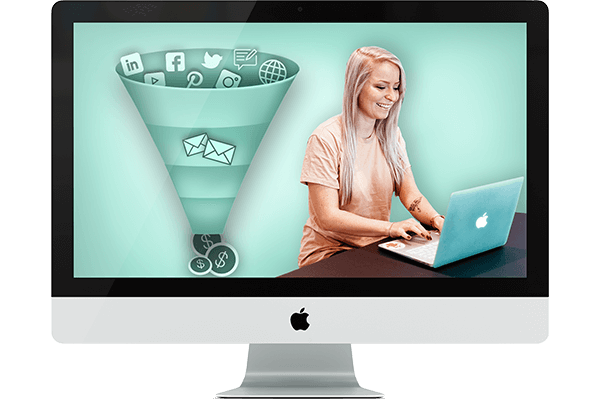 Digital Marketing Strategy: Promote Online Events with Confidence
LEVEL: INTERMEDIATE
DURATION: 1.5 hrs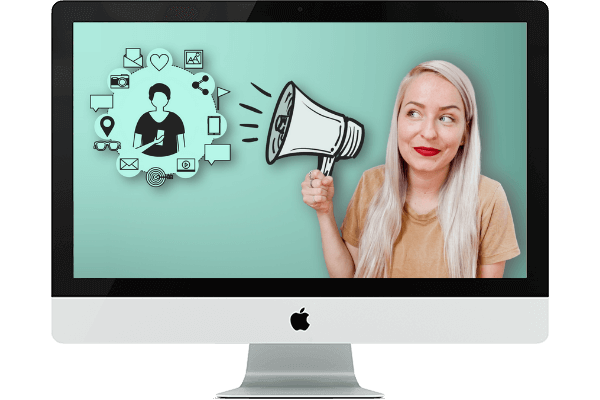 There's never been a better time for you to run a webinar, workshop, training or any other kind of online event to grow your business. Online events (whether they're live or pre-recorded) have the power to get your audience to laugh with you, cry with you, trust you and ultimately buy from you. 
And after working on many successful (and some not-so-successful) online events for myself and my clients, I have a lot of amazing tips to share with you in this class. With these tips, you will be able to make sure your next online event is full of engaged, targeted attendees who are ready to buy your offer and become loyal customers!
What will you learn?
In this class you will learn how to:
Create a profitable promotion strategy based on objectives, audience needs, budget and competitor research.

Identify both organic and paid promotion efforts at each stage of promotion.

Determine the best retargeting strategies for your audience and how to use them to have the most impact – whether that's Facebook Ads, Instagram Ads, LinkedIn Ads or other methods.

Construct an effective sales pitch to present at your online event.

Identify areas to monitor for possible obstacles within your promotion strategy.

Test, assess and adjust their strategy for future events.
What can you expect?
By the end of the class, you will have the knowledge, skills and tools to go away and plan a successful promotion strategy for any online event. 
But not only that – these skills are INCREDIBLY transferable to almost all other areas of the marketing world. You can use these strategies to build your email list, promote a product launch or even set up an evergreen offer that you can sell on auto-pilot while you sleep!
DIGITAL MARKETING STUDENTS
REVIEWS





START LEARNING
Mindful Marketing
Mindful Marketing: Create a Positive Impact with Your Social Media
LEVEL: BEGINNER
DURATION: 2.5 hrs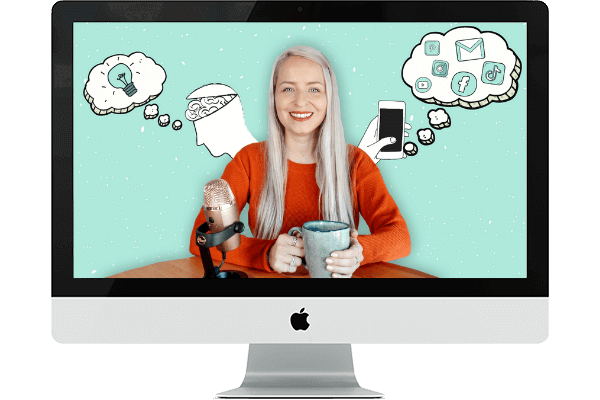 Within the realm of social media marketing – we're constantly being pulled in 100 different directions.
We're told to post more, do more videos, use MORE hashtags, use LESS hashtags and the list goes on and on and on.
But we often forget to audit our own experience of the digital world as well as the experience of our audience.
Since 2016 I have taught thousands of social media managers and business owners how to grow their businesses online. And in this class you will learn not just how to grow your follower numbers… but how to grow real connections with your audience and create a better, more powerful digital world for yourself and your social media followers.
Mindful Marketing is all about creating and consuming online content with intention. And throughout this class you will get to do just that.
What will you learn?
In this class you will learn how to:
Understand how your own unique brain works and what your personality type means for your productivity, career path, focus etc.

Build resilience and make your mind and mental health a priority in your day to day life.

Create boundaries around your own social media use and control the algorithms of various social networks so you can see more of the stuff that inspires you and makes you happy and less of the stuff that takes away your focus. And you will learn how to share this with your own audience so that they can learn how to see more of your posts on their newsfeed.

Overcome your impostor syndrome and become a more confident you online and offline.

Become the leader your audience and your team deserve.

Build a memorable brand on social media.
Who is this for?
This class is for anyone who wants to learn how to develop a better, healthier and more impactful relationship with their social media both as a creator and a consumer.
You will learn about amazing brands that are already incorporating mindful inclusive marketing into their brand presence online and how you can do the same!