Why not?
Back in 2017 I began teaching online courses as my way of passing on the skills I had acquired as a successful freelancer within the world of social media and digital marketing.
And I loved it. But I quickly discovered that I was spending all of my time launching and promoting my courses. When all I really wanted was to have more time to create content and support my students.
So I eventually decided to drop my prices and also put my courses on platforms like Udemy and Skillshare. Which means I now get to to spend my days doing more of what I love.
It also means I'm able to help more people just like you – to start and grow their online businesses, get more clients, make more money and lead happier lives. And that's a big win in my books!
Plus, teaching on Skillshare also allows me to give you access to not just my courses, but 30,000 more from amazing instructors all around the world!
So go ahead, explore this page to find out more about my courses, or click below to go straight in and access your free two week Skillshare trial:
Minutes of Course Content Taught
Minutes of Free Content Taught
START LEARNING
Social Media Marketing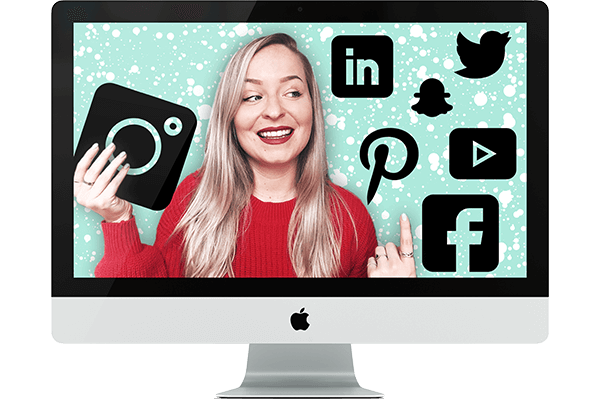 Powerful Social Media Marketing
LEVEL: BEGINNER
DURATION: 9.5 hrs
Whether you want to travel the world while working from your laptop as a digital nomad like myself, or just want to work from home so you can spend more time with your loved ones – either way, this is the best place to start.
In this course you will learn everything you need to know in order to begin your career as a Social Media Manager as soon as you finish.
Or if you run your own business, use these skills to grow your online audience and grow your sales!
What can you expect?
I'm not promising you a multi-million dollar income with minimal effort. 
What I can promise you is that if you follow the steps I teach you and you keep a hard-working, positive attitude throughout the course – you will have the best chance at guaranteeing your own success. 
All of the content you will find here, is based on the exact tips and techniques I wish I knew about when I first began working online – combined with the latest knowledge of the rapid-moving social media world.
Why is this course special?
By the end of the course you'll have the skills you need to get started in your career as a social media manager or grow your business online if you're a business owner looking to learn social media to improve your own presence.
Remember:
Choose a job you love, and you will never have to work a day in your life.
What will you learn?
Finding your purpose – 

 

Narrow down your purpose, discover your "why" and find the care factor which will make you an irreplaceable asset to any business
Guarantee your success – 

 

Take charge of your own success and learn all the best tips on how to achieve it
Social media platforms – Get a behind-the-scenes look into Twitter, Facebook, Instagram, Pinterest, YouTube, and LinkedIn
Content creation –  Learn the techniques that have made me stand out from my competition by thinking outside of the box. Discover how to create graphics, gifs, and videos – all using free resources, no prior design skills necessary
Creating a social media strategy – 

 

Learn the tricks I have used to land my dream clients from the very beginning. Tricks that you can copy and use in your own online work
Build your freelance business – discover how to find clients; how to create contracts, invoices and proposals, and so much more!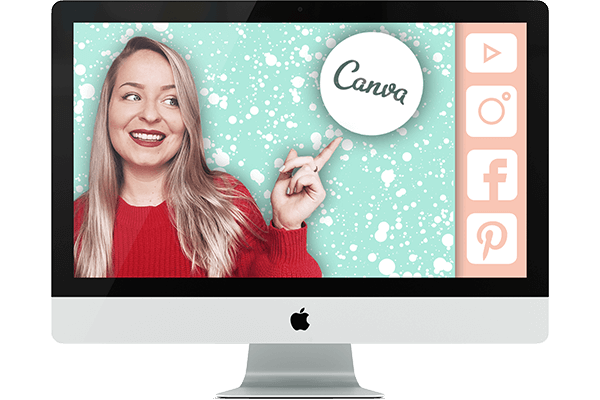 Social Media Graphic Design
LEVEL: BEGINNER
DURATION: 3.5 hrs
The truth is, most of the incredible, eye-catching graphics you see online aren't created with expensive software by professional designers. They're created by people just like you and me, using free tools that are simple and ridiculously fun to learn. So, whether you're a beginner looking for some guidance on basic graphic creation, or an expert looking to pick up some new tricks – this course is for you!
Are you ready to create something remarkable today? Let's do it!
What can you expect?
This course is packed full of exciting, valuable lessons that teach you exactly how to create beautiful graphics that will help turn your online presence into something truly remarkable. It's taught using follow-along screenshare videos so you can create your projects at your own pace as you watch!
Why is this course special?
Using a popular tool like Canva, it would be easy to simply teach you how each of the tools work so you can take one of their pre-loaded templates and customise it to suit your own needs. But if you want to truly enhance your social media, your business or your website's online presence – you'll need to learn a few tricks that other courses don't cover.
Inside this course, we'll master the basics together, and you'll become confident using Canva and other free online tools. That means no more relying on expensive graphic designers or costly and confusing design software!
As a freelancer, business-owner and best selling course creator, I know exactly what it takes to create a lasting impact online. 
What will you learn?
By the end of this course, you'll be able to make your own:
Canva graphics to use anywhere online and offline for print
Instagram inspirational quote graphics, multi-post images and moving GIFs for Insta Stories
Facebook graphics, cover photos and Facebook ad graphics
Pinterest pins and board covers
YouTube channel art, video thumbnails and image cut-outs
Business eBooks, mockups and compressed images to ensure your website stays super fast!
SOCIAL MEDIA MARKETING STUDENTS
REVIEWS




START LEARNING
Digital Marketing Strategy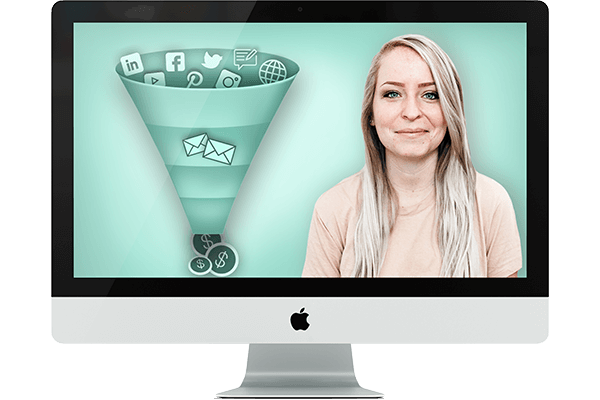 Profitable Sales Funnels:
Fundamentals
LEVEL: BEGINNER
DURATION: 3.5 hrs
You might be surprised to learn that there are really only three ways to use digital marketing strategies to grow your business:
Increase the number of customers

Increase the average transaction value per customer

Increase the number of transactions per customer
And in this course, you're going to learn how to execute on each one of these. 
Some people (including me) have been through years of trial and error to master the elements you will be able to master in just a few short hours in this class.
Are you ready to learn the exact sales and marketing strategies used by some of the biggest brands in the world? 
What will you learn?
How to identify who your target audience is and how to sell to them in a non-salesy way

Why sales funnels are the key to your business growth and where a lot of businesses go wrong

What your strategy should be at the top (or beginning), middle and bottom of your sales funnel

How to cater your strategy to the mindset of your audience to create a positive customer experience at every stage

How to map out your profitable sales funnel and execute on your tailored digital marketing strategy
And much much more!
What can you expect?
Once you complete this course you will have a solid framework for what your profitable sales funnel will look like and be able to move onto the implementation part with confidence.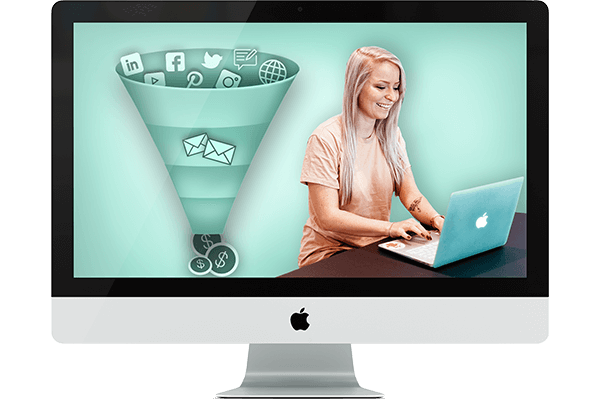 Profitable Sales Funnels:
Mastery
LEVEL: INTERMEDIATE
DURATION: 9.5 hrs
Within this course you will learn everything you need to know about creating a profitable sales funnel from start to finish in just a couple of hours – and using only ONE inexpensive tool!
With this one tool you'll be able to deliver your free offer to your audience, create sales pages, create a simple online store, take payment, send emails and so much more!
I've often found that people don't end up succeeding with their sales funnel because they're trying to do too much too fast. So in this class, I want to overcome this problem by presenting the lessons in a planning and execution section, and an advanced section.
What will you learn in the planning section?
You will learn what tools and offers you need to have in place in order to create a sales funnel that is actually designed to make you money.

You will also learn how to launch a sales funnel and even begin making money from it even if you don't have anything to sell yet or an audience to sell to.
What will you learn in the execution section?
You will be learning everything you need to know in order to write, design and build profitable landing pages, sales pages and email sequences for your customers.
What will you learn in the advanced section?
You will be able to go even further with your sales funnel by taking you through techniques for creating additional paid offers within your funnel and optimising for your best performing assets.

You will also learn how to use additional free tools within your funnel to help you handle customer objections and increase social proof on your sales pages. 
DIGITAL MARKETING STUDENTS
REVIEWS