Who are Nick & Maggie?
_______
This is the story of how we traded travel full-time for the four white walls of our stable, 9-5 jobs…
oh, and then how we quit those to go back to a life of full-time travel.
But this time, on our own terms.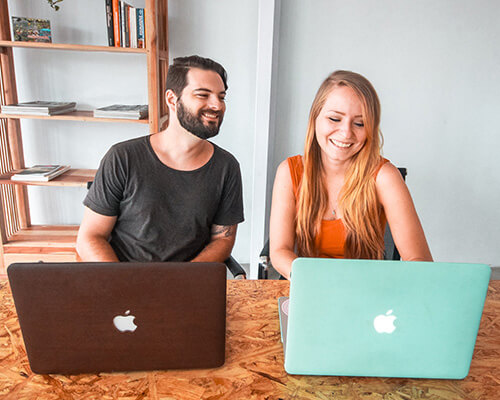 PART one: #viewfromtheoffice
Before our windowless, artificially-lit 9-5 jobs, we both had (picture) perfect jobs. Jobs that people dream about. The kind that you don't ever leave unless you're absolutely crazy.
We know from experience that this is not something a lot of people can relate to. Of course, we will get to the relatable part of our story, and promise we'll make our journey down memory lane worth your while.
So back in 2013, we were working as tour guides in Europe.
Which meant that we were busy posting photos like this one on social media, often paired with (creative, though slightly obnoxious) hashtags like #viewfromtheoffice.
We were tanned, happy and managing tours covering the whole European continent for eager young travellers from all over the world.
The reason we wanted to begin our story here is that these jobs taught us never to believe everything you see on social media. Behind every one of those picture-perfect photos was many late nights spent with our passengers in hospitals, at police stations, or on all-night pub crawls even when we really didn't feel like it. But rest assured those moments didn't make it onto the Instagram feed.
Not all picture-perfect jobs are in fact as perfect as they seem in the pictures.
So, after several years of spending up to three months apart at a time due to conflicting schedules, and our over-exposure to loud techno music we decided it was time to move on and try something different…
PART TWo: Adulting
Nick enticed Maggie into moving to Australia with false promises that Vegemite tastes better when you get there. Other than the bitter taste of both Vegemite and the associated lie, there were many highlights. Like putting IKEA furniture together, food shopping at grocery stores instead of petrol stations, and actually having our own fridge to put our food into. 
During this time, we got well-paid office jobs which both of our families classified as being 'good'.
Well for us… good, just wasn't good enough.
And so this magical feeling of relative adulthood lasted about six whole months. The Scandinavian flair of our affordable IKEA furniture no longer made us smile. Being able to grocery shop and put the food away in our very own fridge was no longer a novelty.
Not to mention that the taste of Vegemite still wasn't growing on Maggie as promised. This was the point at which the walls of our suburban home began closing in on us and it was time to find a way out.
Part Three: Plan B
The 'B' in this case, stood for business.
We'd like to preface this by the fact that neither of us had any idea of what it would take to start or run a business. Or even what kind of business we wanted to create.
This part of our journey has solely been shaped by only two principles that we both agreed on. We knew we wanted to start a business that would allow us to:
1) Help as many people as possible
2) Allow us to travel whenever we want, wherever we want
Through a healthy blend of luck and desperation, Maggie stumbled into freelancing online as a social media manager. She had no clue what she was doing (or at least that's how she felt), but her clients were kind enough to let her learn from them when first starting out.
Maggie's first paycheck was $60 for a 3-hour project. Only that 3-hour project took the entire week to complete!
It was still the best $60 that she ever earned.
Over the next year, Maggie spent every spare minute she had learning, absorbing information and asking as many questions as she could to get answers, from people who had already achieved what we were both merely dreaming about. Nick also quit his job and started to learn digital marketing skills from scratch. We both ran full steam ahead into the world of online business and never looked back!
Fast forward to present day. We now juggle our time between freelancing online for our amazing clients, helping them to grow their businesses through digital marketing strategies, and also spending our time teaching others about the world of digital marketing.
When we started working online and began having the freedom to set our own hours, and travel whenever we wanted – we knew that we were onto something that could change our lives and the lives of others forever.
Living to Roam exists to achieve exactly that. To empower you to create a life you love.
For us, geeking out over digital marketing, business and remote work has allowed us the privilege to travel whenever and wherever we want. Your idea of freedom may look the same, or it might be something completely different.
Whatever it means for you – we want to help you achieve it. 
If you're ready to stop building someone else's dream for them and start building your own – you, my friend, are in the right place.
Here's a little bit more about us below…
Maggie
Nationality: Slovak, Canadian
Strengths: Vegan superpowers, speaking three languages, ability to play in ball-pits and go on children's rollercoaster rides without suspicion due to being short (and proud of it!)
Weaknesses: Inability to stand still, continuously picking up new skills like it's my day job
On the bucket list: Hold a sloth in Costa Rica and try not to cry tears of extreme joy
Ideal dinner party guests (living or dead): Ellen DeGeneres and Prime Minister Justin Trudeau
NICK
Nationality: Greek (just the beard) Australian
Strengths: Eating all of the Greek food, playing Finska, beard growing
Weaknesses: Cracking eggs, yoga (except for child's pose), playing way too much 'Plants vs Zombies: Heroes' (although he will tell you it's a strength as he is really, really good at it)
On the bucket list: snowboard in Japan, see Daft Punk perform live
Ideal dinner party guests (living or dead): Richard Branson, Zach Galifianakis, Muhammad Ali