Picture a girl sitting on a park bench on a beautiful sunny day, throwing bits of her bagel at the happy couples strolling through the park on Valentine's Day…this was me. I was this girl.
My thought process was that if I couldn't be strolling happily through the park with my significant other then neither should they.
So if it wasn't glaringly obvious already – I've never been a huge fan of long-distance relationships.
Most of my relationship with Nick was long distance before we moved to Australia. Sometimes we wouldn't see each other for four months at a time, so I often found myself wanting to throw food at happy couples.
This post, however, is not about that.
This post is about the other type of long distance relationship that all travellers inevitably find themselves in, whether they're single or not. It's a long distance relationship which is often forgotten about but just as difficult to manage. This is the long distance relationship a lot of travellers like myself have with our families.
I'd like to give you a bit of background on my experience with having the long distance family relationship and then share with you all the creative ways that I've found to help make the distance seem less daunting.
The expert expat
I've actually been in a long distance relationship with family since the day I was born, so I find myself to be a bit of an expert on this.
You see, growing up in Eastern Europe meant that, just like a lot of my friends, I had family members who emigrated during tough times. Some I wouldn't meet until I was a teenager, some of whom I've still never met. You couldn't find cheap flights as easy then as you can now. 
Though there's no term for the aching feeling you experience when your partner is far away, the one you feel for your family is very specific – and just like seasickness, homesickness sometimes makes you feel incredibly disorientated. You can definitely try to substitute your family by staying in some of the best hostels around, but that is only a temporary fix. 
It wasn't really until my family was the one emigrating that I fully understood what homesickness felt like. Though I didn't realise it back then, now I know that feeling homesick is almost like your body's allergic reaction to an unfamiliar environment.
It was this nauseating, unshakable, uncontrollable urge to get back into my European comfort zone that made me miss out on a lot of great things during those first few years in Canada.
A different kind of travel sickness
I've seen it have a similar effect on travellers and freelancers overseas. Even if they've only been away from their family for a few days, and their trip has an end date at which point they'll get to see them all again. Their brain knows that staying in their room binge-watching Netflix when they could be out exploring an incredible foreign city isn't going to help bring their family closer.
But it's not meant to be logical – it's love. Cheesy but true.
Maybe it's not quite the crazy bodily ache you get being apart from the love of your life, but it still hurts a shitload, and anyone who has ever been homesick can back me up on this.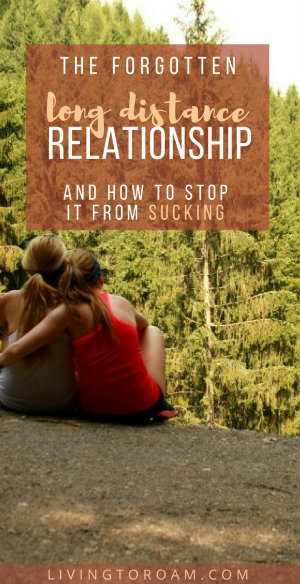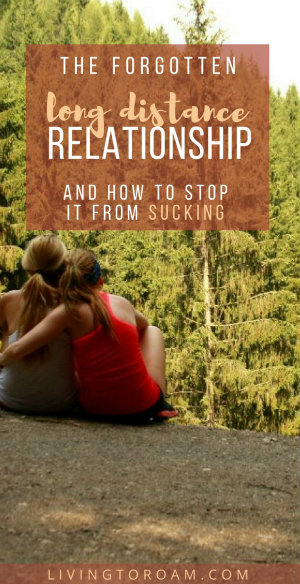 The thing is, as a traveller you learn to turn this feeling off because you wouldn't get very far feeling crap in every unfamiliar environment. Imagine going to a great restaurant in Vietnam and telling the cook that their food sucks because that's not how your mom used to make it. You'd be surprised the kinds of ridiculous behaviours people exhibit when feeling homesick.
I've seen just about all of them from other travellers. Hell, I got my sister's initials tattooed on me when she went to Africa for the summer, she was literally gone for less than two months and I lost my mind. If it wasn't obvious already, I'm a go big or go home sort of homesickness sufferer.
So you can imagine how I can't allow myself to get quite so nuts anymore.
Nick and I live in Australia, my sister is in England, my parents in Canada, my grandparents in Slovakia. If I allowed homesickness to get to me I'd just be covered in tattoos and run out of Netflix shows to binge watch by now.
The distance never really got to me while I was travelling and busy but ever since we've gone suburban and began working online (at least temporarily) it seems more daunting than ever.
I've come up with a few ways that I've implemented with my long-distance friends and family over the years that have made the distance a bit less overwhelming; hopefully they can help you do the same.
Scoop the poop
My grandma watches a Slovak reality TV show where city folk go live on a farm and they basically just compete to see who can shovel the most cow poop and milk the most goats. If you're ever wondering why hard alcohol is so cheap in Eastern Europe, our need to make these thrilling TV shows more bearable might have something to do with it.
Even though I can't watch the show with her from Australia, I always ask for updates on the poop-shovelling antics and that makes her happy.
It may sound silly but when you're away from your family, sometimes for months or even years at a time, when you do see each other it can actually be really difficult to know how to pick up from where you left off.
It's not as if you've been writing a list of all the important events in your life that have happened since you last saw each other. You might catch up over the phone or on Skype every once in a while, but when you see each other it still feels a bit strange. Having things in common like poop-shovelling TV shows really helps, as it always gives you a starting point. It's something you'll have in common no matter what else happens in your lives.
You can take this one step further and watch your shows together over Skype, but that's the kind of extreme bonding that I'm just not quite ready for.
So my advice is to find your poop-shovelling TV show and bond over it. 
Above is a photo of me dressed as a cow milking the family goat just for good measure. Sometimes instead of asking why, ask why the hell not? Which brings me to my next point…
A healthy dose of creative insanity
Chances are, if you're spending the holidays, birthdays or other events in your life apart often – you'll know that there's no point in sending expensive gifts.
All you really want is for them to show up in person and give you a big hug. No amount of fancy gifts will ever make up for their absence.
The best thing you can do as far as long-distance gift giving goes is thinking small or thoughtful, or in a perfect world – both. All you want is to know that person is thinking of you.
This past year, was the third Christmas I'd spent away from my parents. There was nothing I could do that would make up for that. So I decided to bring them to Australia – the cardboard version of them anyways.
I printed a poster of them. I then stuck it on the cardboard that the poster came in and cut out their shape. I then made their legs by stuffing our own pants full of socks and attached our shoes to the bottoms to make them look more three dimensional.
Nick and I then took photos with them doing random things, like…
Eating dinner:
Chilling in the pool…carefully, as some of us were made of cardboard:
Watching Die Hard, it WAS Christmas after all:
To sum up:
Poster printing – $16
Cardboard I stuck it on – $0 plus some paper-cuts
Printing photos of our excursions – $22
Leg stuffing antics – $0 and a lot of laughs while assembling.
Having their cardboard cutout sitting in our garage and scaring the crap out of me when I get home every day? – Priceless.
Granted they were slightly smaller than life-size and wearing winter jackets in 40 degree Australian heat but it was without a doubt the best $38 I ever spent. It was the closest I could get to actually spending the holidays with them and the result was just sheer happiness all around.
The perpetual cycle of being dead broke and then spending money on stupid things leaves a lot of travellers strapped for cash when it comes to gifts for their loves ones.
I get it, believe me.
Just know that there is always a way of showing your loved ones you care – even if you're half a world away – that doesn't have to cost an arm and a leg.
This year for Mother's Day, instead of an expensive flower bouquet delivery, my mom will be getting a delivery of organic vegetables and some potted tulips from the local supermarket.
It fits perfectly with her love of all things organic, and hunky delivery guys… although I'm not sure if they'll take my request in the 'additional delivery details' section for a delivery man resembling a young Kevin Costner seriously. But a girl can dream.
Either way this is a fantastic hack for anyone not wanting to shell out $150 for flower delivery on Mother's Day or birthdays, anniversaries etc.
Many grocery stores now offer delivery services and oh yes, they have flowers too!
It's the thought that counts – so get creative.
Appreciate the crap out of each other
This seems obvious but seriously, don't spend the time you do have together when you finally meet up, getting into shitty fights over silly things.
Appreciate the time you have together.
Do silly things, and get a little crazy.
(The photo above is of me and my mom pretending to be Julia Roberts and Hugh Grant in the Notting Hill bookshop in London, pretending to hide from the paparazzi. Crazy? Yes…incredibly fun? Also yes)
Depending on how vocal your family may be about their feelings, they might not always tell you just how much they miss you when you're gone. Probably because they don't want you to worry about them.
But they do, so when you're together don't focus on the negatives and just spend as much time as you can being ridiculously happy in each other's company.
The best way I've found to do this is to meet up elsewhere on neutral ground. Having family members come and stay with you is great but chances are you still end up going about your normal routine and they may not get the attention they deserve.
We've avoided this by always trying to go somewhere new.
The first time Nick met my parents we all jumped on a 10 hour bus to New York and stayed in a one bedroom apartment together. It was sort of a crash course in in-law bonding. Travelling with your partner is one thing, but with your partner AND your family… it takes some dedication to make sure that it all goes well. 
Luckily, the trip was perfect. It forced us all out of our natural comfort zone, away from our home environments, computers, TV or anything else that would have provided a distraction from spending real quality time together.
Last year we were in Poland and my parents were in Toronto so we decided to meet halfway in Iceland and experience something which was brand new for all four of us. There's nothing quite like 12 hour drive days to bring people together, or tear them apart – lucky for us it was the former. Read more about our Icelandic adventures in our Iceland travel guide.
The point is that no one felt inconvenienced by having to entertain the 'visitors' or felt like they were inconveniencing their 'hosts' by overstaying their welcome. 
Everyone was on neutral ground and it allowed us to just do the most important thing – enjoy the absolute crap out of each other. If you want to feel more 'at home' on when travelling then housesitting might be a good option to consider as well. 
Our holiday family photo below, for example…demonstrates our inability to ever have a dull moment when we get together, and I wouldn't have it any other way.
Surprise, surprise.
You've probably seen countless Facebook posts and tear-jerking YouTube videos of people surprising their family members by just rocking up at their front door after years of not seeing each other.
As far as my top 5 preferences for emotional YouTube videos goes, the order is as follows:
Restoring faith in humanity
Cute old people moments
Unexpected animal friends (I mean, a gorilla and a tiger? Come on that's off the charts cuteness)
Outrageous flash mob proposals
Emotional family reunions
Needless to say, I'm a sucker for these videos. As someone who has done the 'surprise visit to the relatives' thing, let me tell you it doesn't always go according to plan.
I won't go into the ugly details of it but let's just say the surprise flight my sister and I took… it nearly turned us into human icicles outside of the gate of my grandma's house while it snowed regret all over us at 2 am on that chilly December eve.
Aside from the possibility of your well-intentioned plans going tits up, there's one major downside to surprise visiting your relatives. It's that they'll likely feel like crap for months about the fact that they, once again, won't see you for the holidays or whatever your reason for visiting may be, while you're planning to surprise them.
Because of this, I've opted for the benefit of anticipation.
Telling your family you'll be visiting them ahead of time has major benefits. All of you get to be excited for the months leading up to your visit, and your family has time to cook you all of the meals you miss so much. They are also able to get time off work and make plans for when you arrive.
Again, I love the surprise factor, and when it goes right it can be so magical.
When it goes wrong, however, you could end up like me.
Standing outside of your grandmother's locked gate with a frozen portable speaker, unable to make your dramatic gesture of playing Elvis Presley's 'Blue Christmas' while holding the speaker above your head, doing your best impression of John Cusack in 'Say Anything'.
Use your own judgment on this one but beware of the possibility of becoming a human icicle yourself. If you can make it happen, your family will be thrilled that they get to see you, rather than hear an assorted list of travel excuses as to why you can't make it again this year.
The thing is, there is no life hack to not feeling like a part of you is missing because you're away from your loved ones. Let's face it; the whole 'absence makes the heart grow fonder' thing is all crap. Absence sucks and my heart is not fond of it. 
There are, however, a few things that you can do to bond long distance and enjoy the time you do have together to make the whole thing just that slight bit more bearable. For me, as a digital nomad, these things have helped me survive the long distance relationship with my family really well. 
I know it can be tough, but I think it does make you appreciate each other so much more in the long run.
You certainly don't take your family for granted when they're thousands of miles away.
Are there any things or traditions you have with your long-distance loved ones?
Let me know in the comments, I'm always looking for more ways to get creative!