What if there was a way that you could travel the world, while earning a great income doing what you loved?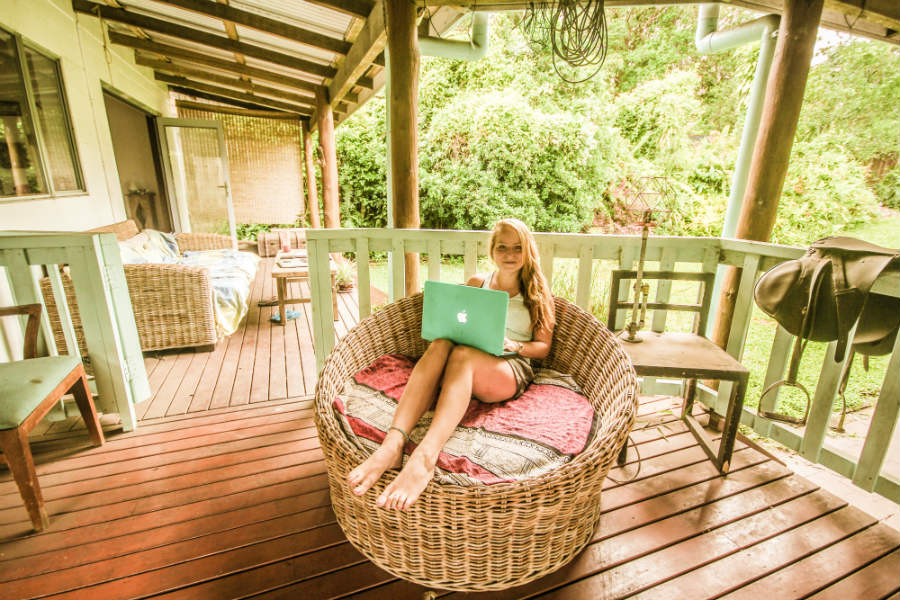 Hey You!
I'm Maggie – and I'm so stoked to tell you that it really can be done. You really CAN travel full time and live a luscious laptop lifestyle. So, let's chat about how I can help you to make your own dreams come true. I know it sounds like a dodgy bar pick-up line but I promise it comes with the best of intentions.
So let's jump into the good stuff…
Who am I and why should you care?
I'm just a gal who loves her job and wants to shout it from the rooftops. I love it because it allows me to travel where I want, when I want and have an 'office wardrobe' that consists almost exclusively of animal onesies. I'm also a not-so-secret nerd, and a multipotentialite meaning my brain is often thinking about 300 things at once and I finally found a job which suits this kind of non-stop, over-achiever way of thinking. Read more about what it means to be a multipotentialite.
The reason you should care is because a part of why I love doing what I do is helping others do the same. The online world is full of possibilities and opportunities just waiting for you to explore them.
What the hell do I actually do online?
Well… basically everything that I teach in this course – which you will read about below. I'm a bit of a jack of all trades, and clients often hire me because of my lack of specialisation. This seems counterintuitive I know, but because of my well-rounded skills and experience, I'm often able to do the work of four or five 'specialist' freelancers. I do everything from designing websites (just like this one) through to growing clients' social media accounts, managing their teams, creating killer sales pages, and even putting together books for print.  Read more about what I do as a freelancer.
So, whether you choose to specialise in one area, or be an all rounder like myself – just know that working online opens up a whole new world. This is a world full of job satisfaction and quick career progression, location independence, and networking with successful business owners and like-minded digital nomads.
Why do I want to help you do what I do?
It's simple – I freakin' love it, and I am incapable of keeping it to myself. Working online certainly isn't for everyone. Some people love their 9-5 cubicle life, and there's absolutely nothing wrong with that.
Ultimately – you need to do what makes you happy and only you can truly know what that is. If you think that working from your laptop (mandatory) while travelling the world (optional) may be right for you then please keep reading! If you love the sound of your alarm clock going off at the same time every weekday, and the sight of the four off-white walls of your office or cubicle thrills you – then I'm afraid this might be where we part ways.
How can I help you to design your freedom lifestyle?
Finally – let's get into the 'how' of it all. First of all, I need to state the obvious – not everyone can be successful online. If we're going to be virtual besties then I need you to know that it will take work to do this. I'm willing to help you in any way I can with ongoing support, but I need you to be willing to put in as much effort as you can. I can give you all the skills and resources you need to replace your full time income by only working a few days a week from your sweatpants at home. Best gig ever right? It really is – but remember that struggle is a prerequisite for success. If you're willing to work hard and keep a great attitude then I will help you design your own dream lifestyle.
The skills I will teach you in this course through step-by-step, follow-along screenshare videos and slideshows will provide you with everything you need to know to start working online – the day you finish! Not a few months of practice or unpaid work later.
Scroll down to find out exactly what I cover in this course.
Learning to Roam is all about teaching you the skills you need in order to design your own freedom lifestyle. Whatever that may mean to you. By the end of the course you'll know how to manage and grow social media accounts, edit photos like a pro and even help your clients manage their website. You'll be a well-rounded freelancer allowing you to work only on the projects that inspire and excite you, while also charging premium rates for your services. And – if you'd like, you will also be able to travel full time while working from your laptop!

Time
Time is one of the few things you can't buy. This lifestyle will allow you to have more time for what matters most. Whatever that may be. Time with your friends, family, time you'd rather spend binge watching Netflix shows – the world's your oyster!
Balance
Allow yourself to have a greater balance between your work and home life. You shouldn't have to sacrifice one for the other. Do what works for you and remember how important your own happiness is.
Unlock Your Potential
Unlock your creative side and become an expert. You will have clients who respect your opinion and will look to you for advice on ways to improve their businesses. You will have the ability to scale your skills from assistant to consultant in just a matter of months.
Love
Get back to doing the things that you love to do. That 2pm yoga class you could never join because it was in the middle of the workday? Get in on it. Want to go rock climbing at sunrise? Go unleash your inner Spiderman. You're your own boss now, you set your own hours.
Get Social
Spend time in cafés and coworking spaces all around the world! Meet other digital nomads, virtually or in real life and make new friends who completely understand your desire for a life outside of the cubicle walls.
Money
Make more money in less time. You are completely in charge of setting your rates and the amount of work that you decide to do. The more you learn, the faster you can give yourself a promotion – you're the employee of the month every month!
Networking
By joining this course you will be joining a network of like-minded people who are going through the exact same thing as you. They'll understand the highs and lows of making the big transition into working online and you can help each other succeed.
Travel
Work from anywhere in the world. All you need is a laptop and a WiFi connection. Your office could be a beach in Jamaica or the Austrian Alps. Trade your office chair for a hammock and never look back!
This course is for you if:
You are willing to work hard at achieving your dream of designing your own freedom lifestyle.
You are the kind of person who understands that the online world is big enough for all of us and you're willing to help others succeed.
You understand that success doesn't happen overnight and this is not a get-rich-quick scheme.
You are truly ready to make a change in your life, whether you want to work and travel or just need more of a work-life balance.
You are curious about freelancing, even as a part-time gig
You want to make new virtual friends who are on the same path as you.
Most importantly, you have a positive attitude and enjoy the challenge of learning new skills.
Who is this course not for?
This course is not for anyone who:
Is a 'negative Nancy', just there to bring others down or belittling their success – we all need to rant about a negative client experience or frustration from time to time, but I will not accept any hate in our student group.
Is wanting to get rich overnight, and become the proud owner of a Ferrari without putting in any effort. (I WISH it worked this way)
Has never owned a computer. This may seem extreme, but everything I cover in this course requires a certain level of tech-knowledge. You certainly don't have to be a computer whiz and I will teach you anything you need to know about the programs we'll be using. But if the thought of using a laptop gives you nightmares then this may not be the right place for you.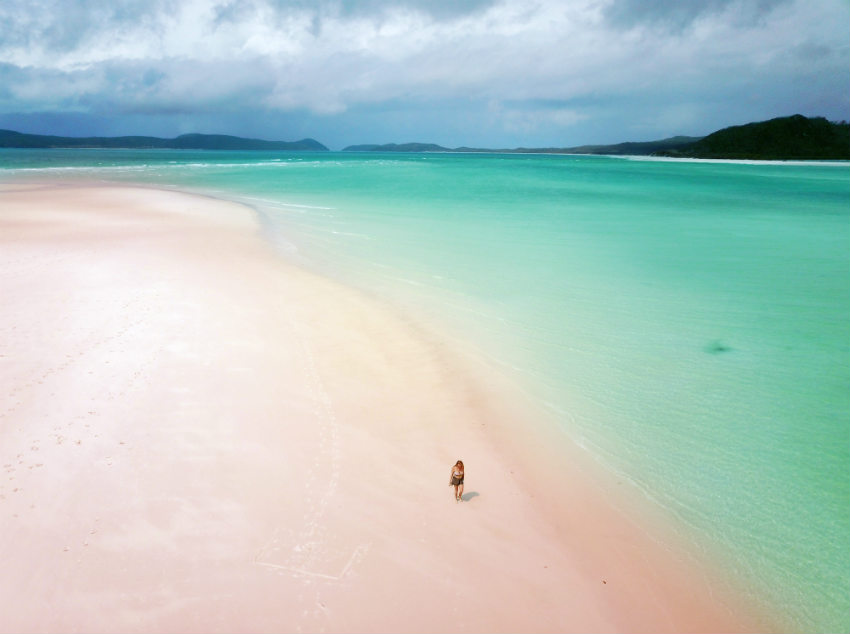 This is just to give you a little preview of what your future life could look like.
Nick took this photo of me from our drone on the beautiful Whitehaven Beach found in Australia's famous Whitsunday Islands.
The reason I love it so much (aside from the shocking lack of tourists) is because I was able to be in this exact spot at this exact perfect time because of the work I do online.
You see before this was taken, Nick and I had just spent a month housesitting in the middle of a rainforest village just a few hours away.
So, we got to live rent-free, in an amazing location while working online and most importantly experiencing everything like locals. This allowed us to save money and go cruising around beaches like this one while living the nautical life for a while; completely offline.
It was probably the first time we realised what the term 'freedom lifestyle' truly meant. It's the ability to have freedom to do whatever you want, whenever you want. And I can help you design a life that'll allow you to have your own ridiculous-amount-of-happiness moment, just like the one I had on this exact day.
what can you expect to learn?
Module 1: planning for success
Lesson 1: Course breakdown
Lesson 2: Finding your purpose
Lesson 3: What's in it for you
Lesson 4: In-demand skills
Lesson 5: Preparation and productivity
Lesson 6: Guarantee your success
Module 2: blog management
Lesson 1: Introduction
Lesson 2: Free vs. paid
Lesson 3: WordPress navigation
Lesson 4: Post formatting
Lesson 5: Free images
Lesson 6: Image formatting
Lesson 7: SEO introduction and headline creation
Lesson 8: Keyword and content research
Lesson 9: Time budgeting
Bonus: Hidden pins
Module 3: email marketing
Lesson 1: Terminology
Lesson 2: Introduction to software
Lesson 3: Templates
Lesson 4: Campaigns – MailChimp
Lesson 5: Campaigns – ActiveCampaign
Lesson 6: Automations – MailChimp
Lesson 7: Automations – ActiveCampaign
Lesson 8: Reporting
Module 4: Virtual assistance
Lesson 1: What is it?
Lesson 2: Customer service software and best practice
Lesson 3: Project management systems and communication
Lesson 4: Passwords and multitasking
Lesson 5: Process documents
Lesson 6: Gmail, Google Drive and Dropbox 
Module 5: Social Media
Lesson 1: Introduction
Lesson 2: Platforms
Lesson 3: Twitter
Lesson 4: Google +
Lesson 5: LinkedIn
Lesson 6: Facebook
Lesson 7: Instagram
Lesson 8: Pinterest
Lesson 9: Live Video
Module 6: content creation
Lesson 1: Introduction
Lesson 2: Branding
Lesson 3: Fonts
Lesson 4: Creating graphics
Lesson 5: Text only content
Lesson 6: Gifs and infographics
Lesson 7: Presentations and image editing
Lesson 8: Social Scheduling
Lesson 9: Creating a strategy
Module 7: getting hired
Lesson 1: Where and how to find work
Lesson 2: Upwork logistics
Lesson 3: Setting up your profile
Lesson 4: Submitting proposals
Lesson 5: Getting consistent work
Lesson 6: Client conflict & resolution
Lesson 7: Life outside of Upwork
Lesson 8: Invoicing and time tracking
Module 8: Your freedom lifestyle
Lesson 1: Care factor and being irreplacable
Lesson 2: Setting expectations
Lesson 3: Things I wish I knew earlier
Lesson 4: Cheap travel tips and tricks
Lesson 5: Housesitting
Lesson 6: What next?
Advanced Module 1: Social Media
Lesson 1: Growing your client's business

Lesson 2: Facebook ads
Lesson 3: Facebook ads – advanced techniques
Lesson 4: Understanding analytics
Lesson 5: Community management
Lesson 6: Useful resources
Advanced module 2: Editing & Design
Lesson 1: Photoshop introduction
Lesson 2: Photoshop useful tools
Lesson 3: Creating flatlays
Lesson 4: Branded graphics – advanced
Lesson 5: eBooks and materials for print
Lesson 6: Lightroom introduction and useful tools
Lesson 7: Lightroom filter creation
Lesson 8: Workflow and useful resources
Submit one online profile for review and get advice on improvement
Access to ongoing training and support through a private, student-only Facebook community
Receive audio files of lessons without screencasts so you can listen on the go!
Printables and offline-use freebies added to the student hub on an ongoing basis